COVID-19 Safety Protocols
Learn more about how we minimize the spread of infection and the risk of COVID-19 transmission
---
Michael Rothstein Dentistry considers the safety of our patients and staff as our first priority. As a result, I wanted to educate our patients on the added precautionary measures we will be implementing in order to reduce your risk of exposure To Covid-19.  These precautions are above and beyond the CDC guidelines.
Due to COVID-19 and our virtual check-in, we are requesting that all patients, existing and new, complete the below forms before arriving to each appointment.
Patient Forms
---
Infection Control Protocols
---
We have added the following precautions:
We will be using a virtual waiting area to assist with social distancing. You will wait in your car and call the office from your car when you arrive (845) 634-8866. The front desk will tell you when to proceed to the screening table.
Patient and staff screenings, involving a questionnaire with a no-contact temporal thermometer, will occur prior to entering the practice.
Hand sanitizer stations are in all treatment rooms and throughout common areas.
All patients must enter/exit office with masks/face coverings.
Pre-procedural oral rinses have been added to every patient visit.
HEPA filters in clinical areas have been added.
Doorway coverings for clinical treatment rooms have been placed.
Mechanical aerosol reduction units and/or high speed suction devices have been placed in the treatment rooms.
Plexiglass dividers have been added at the reception area.
Clinical staff have increased their level of personal protective equipment (PPE) with respirator masks, face shields, gowns, and head coverings.
Non-clinical staff will be wearing masks and gloves.
We have increased infection control above universal precautions.
High-tech organic disinfectant fogging system has been implemented for the entire office.
---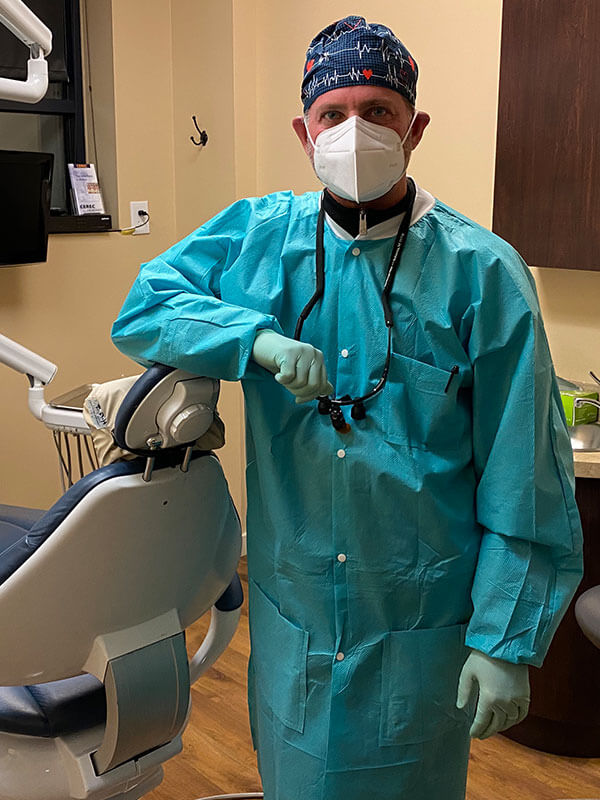 ---